Grace collection update
There's a variety of new items we added this time: headers, footers, content sections, CTA sections and more. Find the complete list below.
Black Friday 2022 layouts are already in production
A question for all of you;
A) Should we continue adding new items to Grace collection?
B) Or should we start a new collection with a new name and demo site?
Reply A or B in the comments section, please.
You can also reply to the notification email with your answer.
We look forward to your feedback 🙂
The cloud library now counts 2596 items in total.
What's included in this update?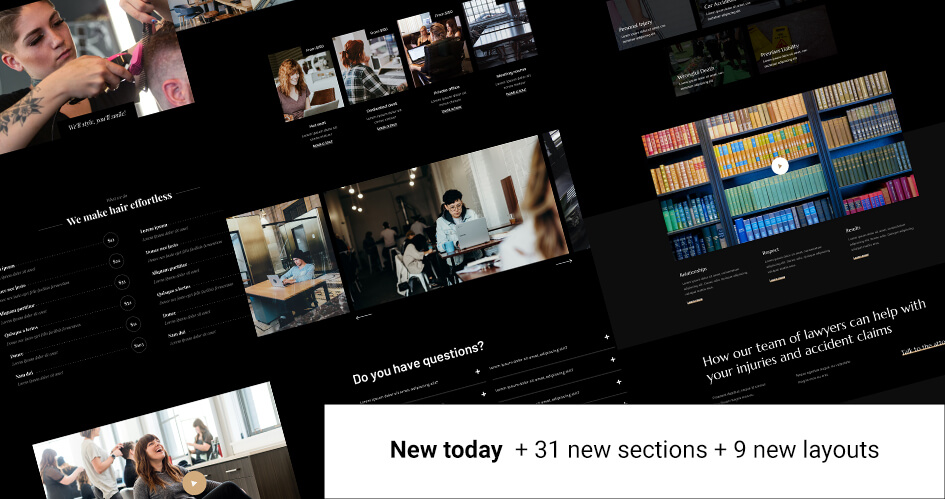 9 Divi page layouts
Hairdresser V2 Homepage
Hairdresser V3 Homepage
Homepage V3
About Page V6
About Page V7
About Page V8
Coworking V1 Homepage
Law Personal Injury Homepage
Services Page V1
31 Divi module sections
8 Content sections
Sparks Content
Exactly Content
Boxer Content
Teacher Content
Swedish Content
Noel Content
Church Content
Zibal V2 Content
3 Footer sections
Grandfather Footer
Store Footer
Eros Footer
5 CTA sections
Guilty CTA
Endymion CTA
Jhones CTA
Echo CTA
Felix V2 CTA
1 Header section
3 Blurb sections
Cronus Blurbs
Action Blurbs
Frans Blurbs
1 Portfolio section
1 Logos section
3 Person sections
Damon Person
Marjorie Person
Founding Person
3 Blog sections
Dionysius Blog
Beauty Blog
Sten V2 Blog
1 Gallery section
1 Accordion section
1 Testimonial section
New to Divi Den Pro? Get started with a Free trial.