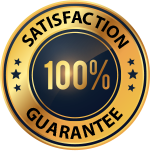 Our 100% Satisfaction Guarantee – Money Back Guarantee for Divi Den Pro
We want to make sure you are 100% happy with your purchase
If, for any reason, you don't like the product, you can't work out how to use it or you have changed your mind, our 100% satisfaction guarantee will ensure that you get a full refund anytime within 30 days of the date of your purchase.
This applies as follows:
For monthly subscriptions
Provided you cancel within the first month of your subscription you will get your money back. Just check in with our Support and your refund will be done as soon as we can get to it. If you apply during the week-end or over a public holiday there might be a delay for which we apologise in advance.
For annual subscriptions
If you have signed up to any of the annual subscription options and have paid the full fee for the year, you need to request a refund during the first month in which you have signed up.
For lifetime subscriptions
Request a refund within 30 days from the date and time of purchase.
If you have any queries, just get in touch with our helpful support team. They can either assist you with any problems or give you a swift refund.
What happens once we have refunded you?
As with all refund situations, whether for a lawn mower or a WordPress plugin, you will no longer be able to use the Divi Den Pro products for which you have been refunded.
This means that the API key will be cancelled and installed plugins and layouts will not work anymore. You will also not be able to use any of the Divi Den Pro layouts and modules and design assets that you might have downloaded.
Of course you can go back to using the Divi Den Free plugin and use our great range of Freebies for any project you might be working on. These will always be free and available to you.
If you have any questions please contact us.
What People Say
I'd recommend Divi Den Pro to any serious Divi user. I've used it extensively and confirm the layouts work well with Divi. The support team is responsive and overall, I'm happy with my decision to use Divi Den Pro.
- Keith Agnew https://mokalabs.com
Divi Den Pro has saved me countless hours of web development. Not only that but it saved me hundreds of hours more in the creative department. Because Divi Den makes use of the latest design trends in webdesign.
I always find myself using individual sections in almost every project.
- Michał
I want to thank you for all your efforts and in helping me craft a better experience for my clients' users. It enables me to build better sites with more confidence and at speed.
- Ali Jaffar Key Medium
Since I work with Divi Den Pro I'm able to build more creative websites for my clients. I even get compliments from clients of my clients, that makes it even more rewarding! Also the support is outstanding when you need some small adjustments to the modules. So thank you Divi Den Pro, for everything you offer.
- Anita Faber 
This plugin has really made me look like I know what I'm doing!
- Flynn
Best layout packs out there! So easy to use, so versatile! Amazing support!
- David O

They create awesome layouts for non-CSS people and their support team is top-notch. VERY responsive and they have saved me on tough items I could not figure out. If you want to work with a winning team on anything DIVI, check Divi Den out. You will not be disappointed. Thank you so much, Divi Den for all your help and to Marko too!
- Sonia W