Boost Your Productivity with the #1 Divi Layout Library
Build beautiful websites with 1775 premade WordPress page templates
Website Owners – Create your site from 16 unique style collections and designer-made page layouts.
Freelancers & Businesses – Build websites at speed with production-ready layouts. Simply browse, load, and start editing.
Web Designers & Agencies  – Get menus, footers, headers & archive layouts. Unlimited domain licenses and white-label branding.
Layout Finder is Your Window to the Library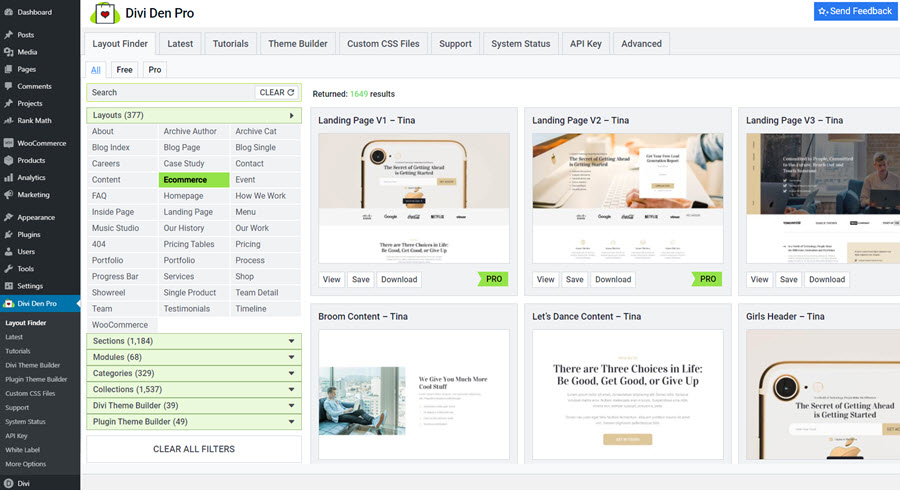 The Complete Divi Den Pro Library – Live Demo Sites
These demonstration sites show exactly what you get when you load Pro layouts to a page. Fully functional and production ready pages.
Watch The Short Videos Below
Design And Build
Get all layouts from one plugin
Load layouts on demand
White label branding
100% mobile & tablet friendly
Amazing support
Flexible license options
Unlimited updates forever
Cancel anytime
You Get
New layouts & modules every month
New design elements
Use of 392 Divi page layouts
Use of 1241 Divi modules
654 Adobe Photoshop PSD files
675 Icons, social media cards
Multi-purpose designs
CSS3 animations
For Your Business
Quote templates
Invoice templates
Creatives brief templates
Development checklist
Business proposal templates
Business card designs
Powerpoint presentation templates
Branding Mock Ups
Test-drive the Layout Finder
Feedback from our happy customers
"Hello… I have been a Divi Den customer for about 4 months and wanted to say thank you!! I find myself constantly surprised by the speed at which new updates are released, and the customer support has been world-class. I had a couple of CSS questions which your team was able to help me solve in record time. Thanks again for all of the hard work to all the folks making Divi Den happen."
"They create awesome layouts for non-CSS people and their support team is top-notch. VERY responsive and they have saved me on tough items I could not figure out. If you want to work with a winning team on anything DIVI, check Divi Den out. You will not be disappointed. Thank you so much, Divi Den for all your help and to Marko too!"
"Best layout packs out there! So easy to use, so versatile! Amazing support!"
"Amazing creativity and design. Clear and easily identifiable layouts and premium design elements with brilliant ideas. (I have all you made, so please keep produce them)"
"Divi Den's designs are absolutely fantastic and their support matches that. I'll be a client for a long, long time."
"I am a user of packages and the Divi Den Pro plugin. The layouts are beautiful. All very well explained, inform the proportions of the images that we have to use. I like everything, as well as being beautiful is well organized. Support is immediate. Always solve my doubts quickly. Congratulations to the Divi Den team. Success!!"

"When we decided to implement Divi Theme (we were using Thrive before – still have a membership with them), we saw our quality to improve greatly. Personally, after the first site I completed with Divi, I decided I didn't want to use anything else. Then we found you guys, and wow… I had to purchase your stuff the minute I saw it. Our quality improved exponentially. Not to mention my life is a lot easier now. Instead of go fishing on the internet and looking through a 1000 templates and what not, I just look at Divi Den pro layouts and I always end up with something amazing. ALWAYS."
"Just wanted to say a massive thanks for the amazing Divi layouts and add-ons you create. I am new to Divi and when i need more premium stuff i will come to you guys for sure. Lifetime updates and unlimited usage is a real sign of honesty and greatness too. Your designs are stunning and really shine when many Divi layouts are almost identifiable without checking the code. So inspiring… Keep up the awesome work and be blessed!"
14 Day Free Trial Is Automatically Added At Checkout
Build Websites 50% Faster
Get 1775 Premium Layouts & Modules
Theme Builder + Navigation Menus
New Layouts Every Month
Always Free Security Updates
Expert Support And Advice
213 YouTube Tutorials
193 Tutorial Articles
Free 30 min Kick-start Session
14 Day Free Trial Included
100% Money Back Guarantee
Get 1 Free Staging Site
Activate on 2 Sites

RENEWS MONTHLY – CANCEL ANYTIME

RENEWS YEARLY – CANCEL ANYTIME

Build Websites 50% Faster
Get 1775 Premium Layouts & Modules
Theme Builder + Navigation Menus
New Layouts Every Month
Always Free Security Updates
Expert Support And Advice
213 YouTube Tutorials
193 Tutorial Articles
600+ Adobe Photoshop PSD Files
WP Multisite Ready + White Label Branding
Free 30 min Kick-start Session
14 Day Free Trial Included
100% Money Back Guarantee
Activate on 5 Sites
RENEWS MONTHLY – CANCEL ANYTIME

RENEWS YEARLY – CANCEL ANYTIME

Build Websites 50% Faster
Get 1775 Premium Layouts & Modules
Theme Builder + Navigation Menus
New Layouts Every Month
Always Free Security Updates
Expert Support And Advice
213 YouTube Tutorials
193 Tutorial Articles
600+ Adobe Photoshop PSD Files
WP Multisite Ready + White Label Branding
Free 30 min Kick-start Session
14 Day Free Trial Included
100% Money Back Guarantee
Activate on Unlimited Sites
RENEWS MONTHLY – CANCEL ANYTIME

RENEWS YEARLY – CANCEL ANYTIME