Divi Den Pro helps you save time with premade layouts and templates
Today the Pro library contains 2783 premade layouts, modules and sections. Use the layout finder in the WordPress plugin to search for the ideal page or module. Save it, load it and start editing.
Here's what's included with Divi Den Pro
Full cloud library access via the WordPress plugin. Save and download anything you need.
New layouts, sections and modules are published every month.
Get expert support by email. Browse 230 YouTube tutorials and 192 tutorial articles.
Complimentary free 30 min kick-start session for anyone who is interested.
Always free plugin security updates.
Access to business tools incl. branding docs, social media cards, PowerPoint & business card templates.
Access to design assets incl. 600 + Photoshop PSDs, 20 mockup templates & 290 custom icons.
For the latest additions to the library see the WP den blog. See the full Divi Den Pro update history in the changelog.
Flynn says: "This plugin has really made me look like I know what I'm doing!" – Read what else people say.
Style collections (19)
Divi Den Pro style collections contain everything you need to build complete websites in that style. Collections come with many homepage variations and everything else in between.
Use the same collection many times and still get sites that look different. Take a look at the live demos below.
Pro and free layout library (total 2783)
Page layouts (671)
Divi modules and sections (2113)
Divi theme builder layouts (76)
Plugin theme builder templates (75)
View of the Divi Den Pro layout finder in the WordPress plugin dashboard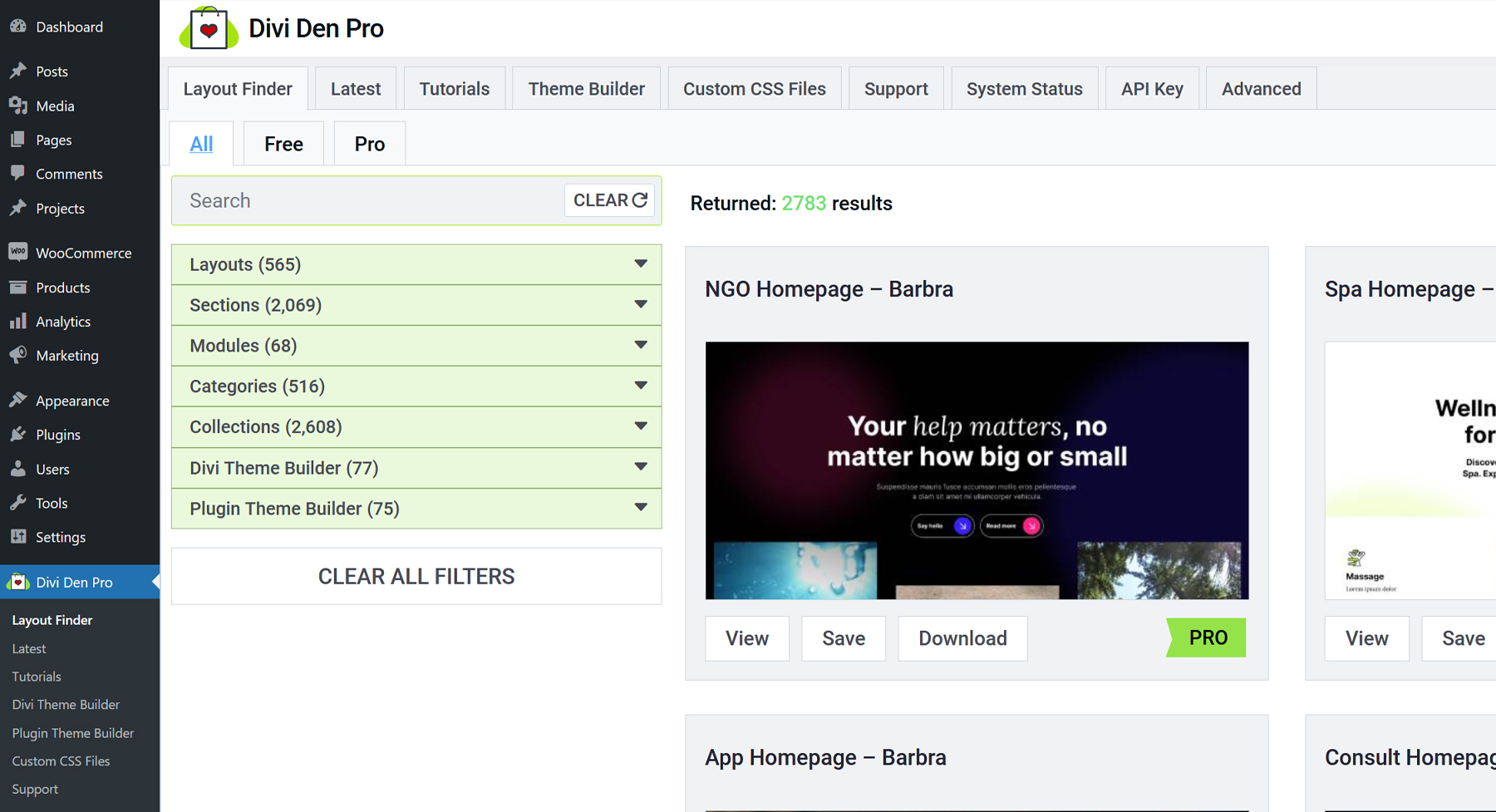 Plugin addons & features
Design assets (members area)
Social media packs (3)
Branding (6)
Branding blue
Branding green
Branding Wood
Business Assets (9)
Business cards designs (2)
Custom icons (290)
Mock up's (20)
Powerpoint templates (2)
Adobe Photoshop PSD files
Style collection PSD files
(Available from the members' area)
Tina (all PSD's)
Freddie (all PSD's)
Diana (all PSD's)
Coco (all PSD's)
Falkor (all PSD's)
Impi (all PSD's)
Mermaid (all PSD's)
Pegasus (all PSD's)
Pixie (all PSD's)
Sigmund (all PSD's)
Unicorn (all PSD's)
Venus (all PSD's)
Mozart (all PSD's)
Jackson (all PSD's)
Jamie (all PSD's)
Home page demo PSD files
(Available from the members' area)
Band PSD
Catering PSD
Coaching personal trainer PSD
Dental homepage PSD
Driving school PSD
Electrician PSD
Hairdresser PSD
Handyman PSD
High school PSD
Landscaping PSD
Ngo PSD
Online app PSD
Plumber PSD
Real estate PSD
Repair service PSD
Vet homepage PSD
What People Say
You can find a lot of so-called premium products on the web for Divi but Divi Den excels them all. My only complaint is that new layouts/bundles don't come up often enough 😉 Great customer service as well, very helpful and responsive team. What I like most is that the templates speed up my work and with some CSS and DIVI magic I can have 2 or more completely different websites based on the same template. Looking forward to your next design!
– Aleksandra H

Best layout packs out there! So easy to use, so versatile! Amazing support!
– David O  (Facebook review permalink)

They create awesome layouts for non-CSS people and their support team is top-notch. VERY responsive and they have saved me on tough items I could not figure out. If you want to work with a winning team on anything DIVI, check Divi Den out. You will not be disappointed. Thank you so much, Divi Den for all your help and to Marko too!
– Sonia W  (Facebook review permalink)
Amazing creativity and design. Clear and easily identifiable layouts and premium design elements with brilliant ideas. (I have all you made, so please keep produce them)
– Ferenc S  (Facebook review permalink)
Love all the work you guys are putting into this – awesome work and great value! Thanks!
– Keith
LOVE LOVE LOVE your solutions and generosity with the fantastic layout packs. Your team is solid with it's solutions and creativity. Thanks! I have the unicorn bundle and 3D portfolio.
– Cr8tivmedia