You asked and we made it for you 🙂
This update was a feature request asked by 2 of our Divi Den Pro members. I thought they were both interesting and decided to merge them into one module you can use today.
The 2 feature requests were:
Hi! Can you make a progress bar on how far you are on the page? I had a seminar today, they said a little thing about the progress bar on top. They told me that people tend to go further to the bottom of a page when there is some sort of progression bar on how far you have scrolled. I think it will help especially on a landing page.
Thanks in advance and thanks for the plugin :).
And
Could you by any chance build a menu that does this: https://naturalselection.travel/camps/hyena-pan/… N.B. remember to scroll as it works brilliantly with the extra links joining the main menu… please let me know! Thank you.
Note: Don't miss the upcoming modules as mentioned below…
How to add a Visual Progress Bar for Divi
Implementing this Divi progress bar on your website is quite easy. With the Divi Den Pro plugin installed, you can search the Layout Finder for the "Visual Progress Bar" module. To help you get it set up, we made a video below and a step-by-step article.
You can see the demo here:  Visual Progress Bar – Freddie
Let us know in the comments what you think of the Visual Progress Bar. How do you plan to use it?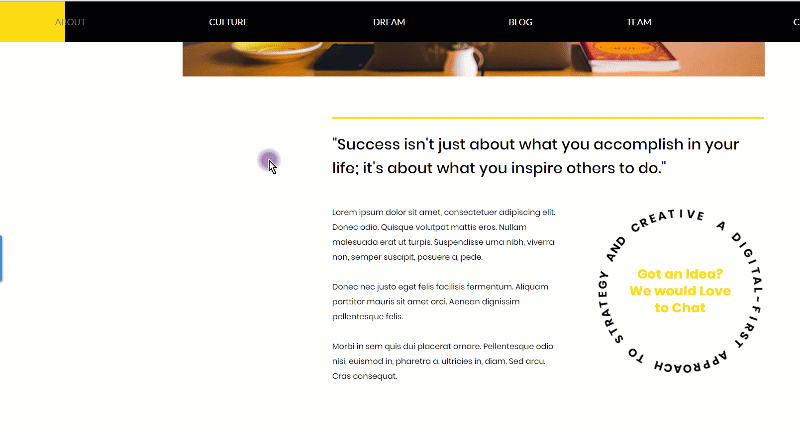 Do you have any feature requests?
We enjoyed making this Visual Progress Bar for Divi and we are currently making some funky Divi sound modules for a member in Canada. These sound modules will be very useful. We think you are going to love them.
Do you want us to make something for you? Submit your feature request here.
A little more about our team
On another note, I have noticed how Christiaan always manages to mention my name in the emails or posts. LOL. Ok yes, I am the designer but we really are a team. So let me introduce the team to you.
Svitlana
Svets has been with us for more than 5 years now. She is basically a genius. She started with us after she finished studying computer science. She has grown into an incredible programmer. Svets makes/updates the Divi Den Pro plugin. When we send out an update like mobile menus in the settings, then you know that she coded it. Also every time we do an update, it's Svets who adds it to the plugin before publishing. It's a labour of love job really. She has to go in and link everything, add to the demo, upload the images and of course add the new code. And then test, test and test again.
Rustam
Rus has been with us for 4 years now. He, like Svets, was a junior when he started with us. What Rus does is all the magic CSS and jQuery. I basically just give him a PSD with the before and after hover design, and then he comes up with everything in between. Of course, this is an oversimplification of the process, but you get the idea. If you look at what we are doing today compared to what we started with, you can see his growth as a coder. I now classify him as a CSS master 🙂 Sometimes I give him a link or we work on the effect together. Not all my ideas work out!
Marko
Marko is the most popular person at Divi Den… LOL. If you read our reviews here or on FaceBook, you will see 90% of them talk about our awesome support. And not about how well designed or how well coded our products are. If you want to leave a review we would love that hint hint 🙂 He is our support guy. When we first started with Divi Den, I quickly realised we needed help. So it's about 1.5 years that he has been with us now. Marko not only does support but he makes all our videos. You may have noticed his cute Serbian accent. Marko is very patient and extremely clued-up on all CSS or any web situations. Which is what makes him so good in support. He also likes pina colada and walks in the rain. Lol, only joking!
Christiaan
My partner in everything! (and biggest fan!) Husband of 12 years (been together 16) and business partner. This was not our first company together. Back in the day, we sold misting systems. Christiaan looks after the sites (we have 17 now with all the demos) and does all our conversions and optimisations and he even helps in support. He also writes all the emails and blog posts. He is a keeper:)
Anja
My mom. Some of you have spoken to her. If you didn't know we were a family business, read about it on Elegant Themes' blog – The Divi Den Story. So what can I say about her? She was the manager of one of the first computer training centres in South Africa. They started with DTP and then introduced web later. Guess you can figure out why I got into web design 🙂 She also wrote the web standard for SAQA, the South African Qualification Authority years ago. She focuses on our SEO. Probably one of the reasons you are reading this is because of her efforts.
So that's a wrap from me and please email me any requests. 
Yours
Kyra
Video Tutorial – How to add Visual Progress Bar to Divi