Grace collection comes to an end. Olena arrives.
13 full page layouts are in the library, ready to be downloaded. Plus 28 new sections.
Black Friday 2022 layouts are on their way.
We listened to your messages last time and decided to make a new collection. Thank you for your suggestions, everyone!
Another thing you requested was more shop layouts in the library. Your wish is our command; Olena, our new collection, will come with some fresh-looking shop page layouts.
Do you have more requests and ideas? Let us know. Write it in the comments, or email us.
Olena has 12 homepages and 123 sections so far. See the bottom of the post for an Olena preview.
The cloud library now counts 2740 items in total.
What's included in this update?
13 Divi page layouts
Grace About V9
Grace About V10
Grace About V11
Grace About V12
Grace About V13
Grace About V14
Grace About V15
Grace About V16
Grace About V17
Grace Services V2
Grace Services V3
Grace Services V4
Grace Services V5
28 Divi sections
Minister Content
Pentecostal Content
Bethany Content
Filmmaker Content
Mendoza Content
Stir Content
Gardena Content
Formerly Content
Bond Content
Released Content
Beverly Content
Action Content
Dolph Content
Atila Content
Disappeared Content
Pastor Person
Artist Person
Perseus V2 Person
California Person
Lundgren Header
Beverly Header
Turkish Header
Halley V2 Gallery
Aurora V2 Gallery
Senior CTA
From Numbers
Punk Process
80s Blurbs
Olena Collection sneak peek
Olena has 12 homepages and 123 sections so far. And most importantly—14 WooCommerce product modules. The dev team is busy reviewing and doing responsive styling right now. We're on schedule for Black Friday.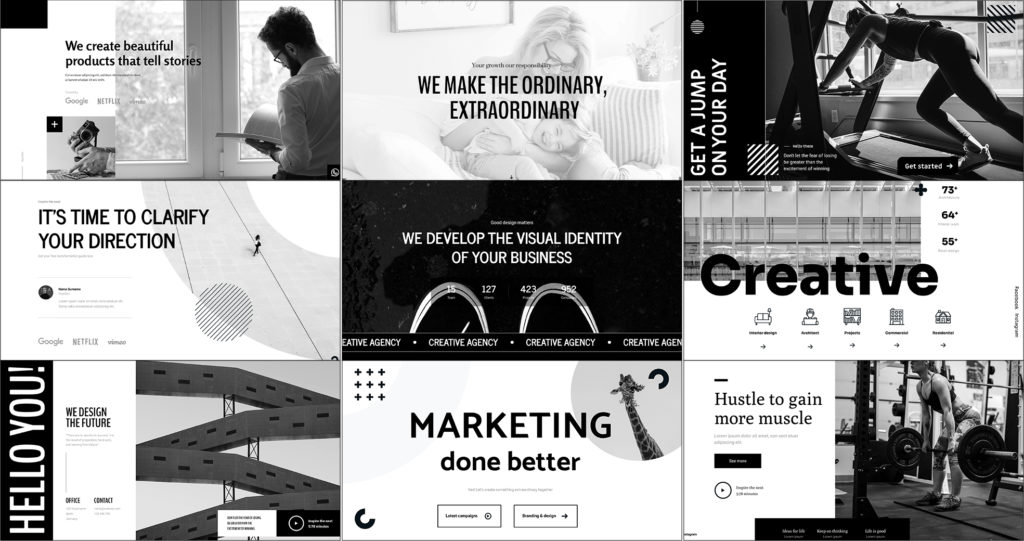 Olena is a modern black and white design style with clean decorative elements.
New to Divi Den Pro? Get started with a Free trial.