Check out these classy Divi Email Optins we made for you. Our goal was to make the animations smooth and subtle. They draw your attention gently. We think you might like them.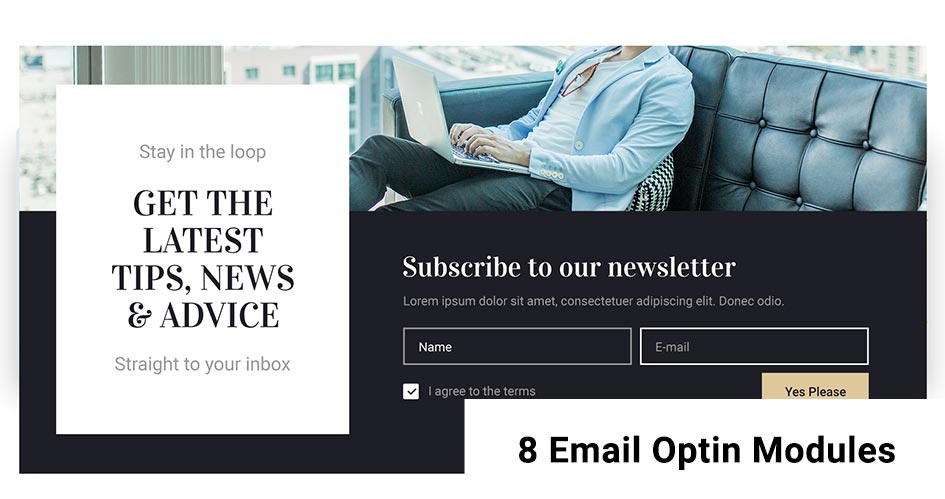 8 Divi Email Optin Modules
Many websites today are required to ask user consent to process data under local privacy laws. You will be happy to know that these email options have a checkbox added for acceptance of terms. We also made sure to style the input field validations in case the user submits without having ticked the box.
Which mailing list services can you integrate with? Loads of them! You can learn more about the Divi Email Optin Module in the Elegant Themes help files.
View email optin demos below
So Familiar Email Optin
You Need Email Optin
Gonna Be Email Optin
Be Right Email Optin
Right Here Email Optin
Your Kiss Email Optin
A Kind Email Optin
Other Lives Email Optin
Do you like these email optins? Let us know in the comments.
2 Divi Woocommerce Layouts made for the Divi Theme Builder
Product Details Template V1 – Freddie Collection
Product Details Template V2 – Freddie Collection
To view all 16 Woocommerce library items simply search for Woocommerce in the Divi Den Pro Layout Finder
2 Divi Services Page Layouts
Services Page V2 – Diana
Services Page V3 – Diana
4 Divi Blurb Modules
Candle Blurbs – Diana
Your Legend Blurbs – Diana
Just Our Blurbs – Diana
Goodbye Blurbs – Diana
6 Divi Content Modules
In The Wind Content – Diana
Cling To Content – Diana
Set In Content – Diana
Who Sees Content – Diana
Always Know Content – Diana
Young Man Content – Diana
Divi Header Module
Need more headers? Search for header to see 119 more header options.
Divi Testimonial Module
Just A Kid Testimonial – Diana
Divi Call To Action Module CTA
Need more Divi Layouts?
Get access to 2291 premade Divi library items. Boost your productivity with the #1 Layout Library made in Berlin. Get started with a 14 day free trial today.