Take your Conversions to New Levels with this Divi Sticky Bar Feature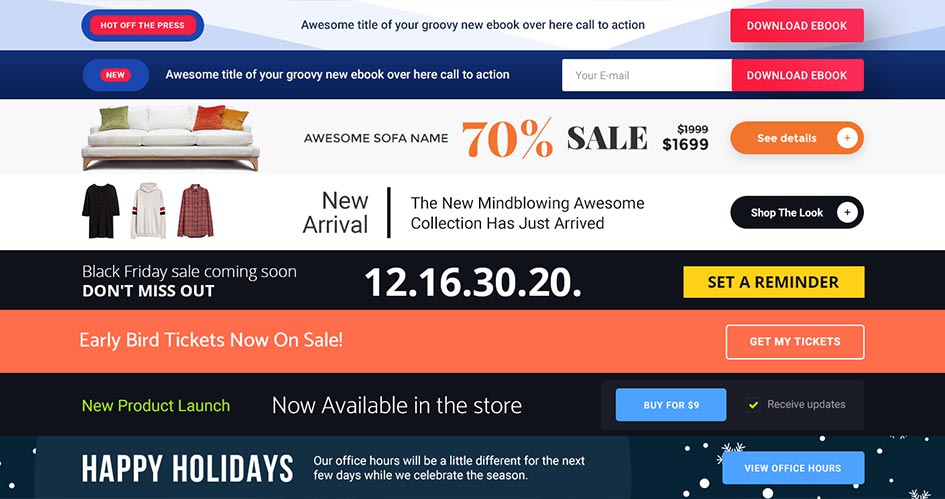 View the Sticky Bars here
Sticky Bars are a great form of Call to Action or CTAs. Your website visitors are busy people and spend their time skimming through the content on your site to find a quick answer or solution to their problem. To catch their attention, use a Sticky Bar with a special message.
Have a special new product, a sale, an invitation to an email list, a not to miss Black Friday promotion? A Sticky Bar is the answer to catch your visitor's attention. No need to spend precious time and money on special landing pages. Add a sticky bar to your page and your message is easily visible without spoiling the layout of the page.
What Exactly is a Sticky Bar?
This new feature in The Divi Den Pro Theme Builder is a horizontal bar that you can 'stick' to the top or bottom of a page on your website. Hence the name Sticky Bar! It is a website conversion tool. And the best part is that it is easy to customise. Add your message to the bar to easily convert your visitors to your special offer or message.
The Divi Den Pro Theme Builder comes with 9 pre-made Sticky Bar modules and as always a training video to quickly show you how to use this great new feature.
Because it's so easy to customise you will also be able to change your sales message at the drop of a hat. This allows you to test your message and tweak it to make it more effective.
Divi Den Pro Theme Builder Makes it Easy to Add a Sticky Bar
Watch our video to see how easy it is to add a Sticky Bar using the new Divi Den Pro Theme Builder.
You will need the Divi Theme to be able to use the Divi Den Pro plugin. Grab it here