Yeah Can – Yes We Can
Actually, Divi Den really started with Yeah Can. And in Germany, almost three years ago,  Yeah Can finally became a legal entity. But I'm getting ahead of myself. What happened to make Yeah Can happen!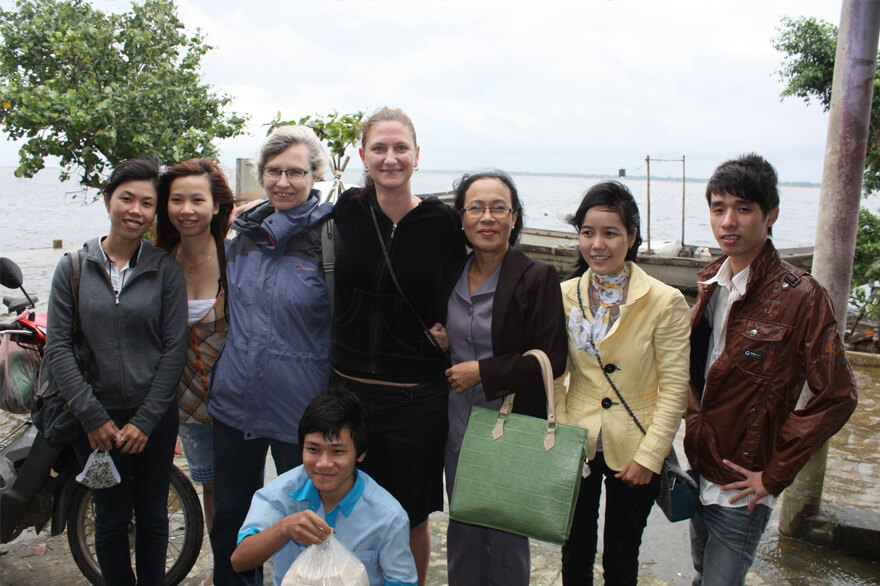 Of all places, the web design business that became Yeah Can started in Vietnam. Not your average country where one would consider launching something. Unless you are Vietnamese of course and then you are born an entrepreneur. And a hard working one too.
It started with a posting to Vietnam as a VSO volunteer. I was offered a two year stint as a volunteer business advisor to a centre serving disabled people in Hanoi. So in 2009 I packed my bags and moved to Hanoi to work at Vì Ngày Mai or Hold the Future in English.
Hanoi is one of the most chaotic cities to live in. Try crossing a street or catching a bus with a driver who hates foreigners, or get pushed off the pavement into a building by a convoy of military vehicles escorting an important official. Can be a little intimidating. On the other hand be welcomed by warm and generous people, enjoy amazing food and experience a glorious culture totally different to the West and you get a feel for the contradictions of this beautiful country.
After a year I moved to Huế the historic capital in central Vietnam to experience more of Vietnam and the core team of Yeah Can, Kyra and Christiaan,  joined me to live in Vietnam for a year.
We worked at Hy Vong, or Hope Center, for a most rewarding year. Run by the warmest, most open hearted Director imaginable, Mrs Hong, this center serving disabled people offers training and production opportunities in tailoring and artisanal handicraft as well as a retail outlet for the handmade products. The tailoring, specialised in uniforms such as hospital scrubs, is a more regular source of income for the center and many months during the year the sewing division funds the handicraft production.
There are ongoing tailoring classes run for disabled people which feeds into Hope Centers own production facility or provides a means of self-employment to disabled people who have a home to go back to. Sewing classes are also held for the members of disadvantaged mountain tribes such as the A Lưới who live in the rural district of Thừa Thiên-Huế Province located west in the highly mountainous and not so easily accessible area of trận A Sầu Valley. Some serious battles were fought here during the American-Vietnam War.
More than my skills as a business developer, Kyra the designer was welcomed with open arms. She re-designed the logo, the website now looking a bit old as it was built over 8 years ago, the signage, brochures, new uniforms, and she even directed the interior design of the new shop which was sponsored by a friend in Dubai who took the huge risk of hiring a yacht for a fundraiser event. The star sales person that she is, she collected over $2000 for the centre and the shop was born.
But the most enjoyable work was probably with the deaf group. Working with them to develop new products was great fun. For once the lack of Vietnamese wasn't such a major issue and sign language as well as own invented gestures was a great way to work together. Our favourite leader of the pack became our dedicated motorbike driver giving him an extra bit of income.
Yeah Can Opens for Business – January 2011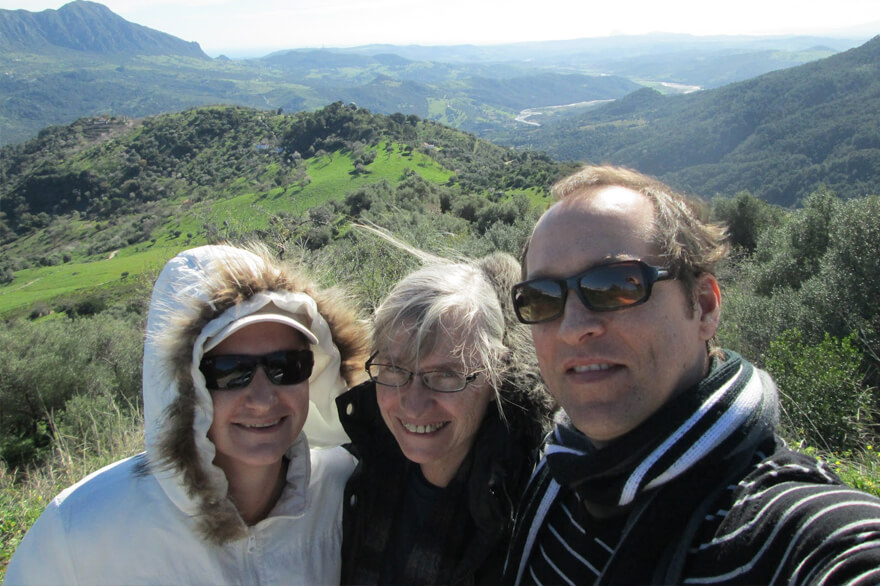 Word spread in Huế that there was a designer in town. International NGOs approached us and suddenly we had a design business. The South East Asian expression of 'yeah can can' appealed. It's used to acknowledge an order in a restaurant or other service industry. We could get the yeahcan.com domain name and a business was born. We worked with Norwegian (Norwegian Church Aid), German (Caritas), USA (Friends of Hue) and UK (Hue Help) organisations.
We started Yeah Can with Kyra as our designer. She has over 20 years of design experience starting as a Flash animator for an eLearning company creating illustrations for high school level Biology. From those humble beginnings she has worked as a freelancer, at international advertising agencies and anything in between. And it was web design of course but also print work such as brochures, magazines and even billboards, shop front signage and exhibition stands, video presentations and touch screen content and not forgetting branding such as logo design and icon work for mobile apps.
Christiaan joined the team, mainly because he got nagged into the family set-up. From an engineering background, having recently sold his successful high-pressure misting manufacturing business in South Africa, he found himself entering the world of all things tech in web design. What a steep learning curve it was initially for him.  He tackled it with his normal enthusiasm and dedication adding SEO, PPC advertising and a range of online marketing skills to the mix.
I was the third part of the family business, looking after accounts, getting back into marketing and writing content. Little did we know what exciting times would be ahead of us.
Growing our business
Once our volunteering stint was over we moved from Vietnam to Europe. It was the first time we had lived in the EU but with two of us with German passports we thought it would be easier. This was especially so after two years of fighting to get visas to stay in Vietnam. The ruling Communist Party doesn't like foreigners too much.
As South Africans we decided on Spain as it was sunny and we dreaded the thought of snow and ice further north.  That's how one makes decisions sometimes! We had two fabulous years in the South of Spain. Fantastic weather, of course, glorious scenery reminding us of Cape Town and lovely warm welcoming people.
After two years we moved across a bit of water and made our home for a while on Malta. It seems to be a Mediterranean thing, because the people were just as lovely as in Spain with the added advantage was that we could communicate in English.
The history on this small rock close to Sicily is amazing. How many times they got invaded by foreign armies and how strong the people stood up to defend their small bit of home is just incredible. Lovely to see a bit of it in the TV Series The Crown. A bit of Game of Thrones was also filmed there. It lends itself to craggy scenery and gorgeous blue/green ocean camera shots. Not forgetting classic old buildings and big defensive battlement walls that surround Valletta the capital and you have the ideal scenery for some historic movies.
Then we moved to Germany. From gorgeous blue oceans and skies to rain. Actually our first summer in Germany was amazing. We welcomed the lush green parks of Berlin with open arms.  After the rather rocky rock of Malta with beige being the predominant colour on land it was wonderful to enjoy the amazing parks and lakes in and around Berlin.
Berlin was also where Yeah Can became a company.
The Idea behind Divi Den
For a while now Kyra had been looking for new ideas to grow our business with. One thing that had been at the back of her mind was to try and find a product we could make and sell more than one time. Making websites is really great. But it's a one fee and then it's over situation.
We wanted an idea that could be added to our web design work. Over a period of time Kyra worked on the concept of making UI Bundles for web designers who were using the Divi Theme. As we loved working with Divi ourselves we felt that the Elegant Themes community might be interested in this idea. It was worth a try after all we had been using Divi ourselves for two years already and really enjoyed it.
At that time you could buy either a UI PSD kit or a theme. But you couldn't get them together. If you are a web designer and want to do a mockup for a client (which we would always recommend) you still have to build it afterwards. If you buy a theme with no PSDs you can't do a mockup and customising it to fit your clients' needs is not always that simple without CSS or coding skills.
So why not make a product that would have both functions, a UI PSD kit so you do can do mockups and and it comes with a premade Divi library? Once your design is signed off you have all the working PSDs so you can easily export the images in the correct size. Load the modules or pages you need from the Divi library and literally speedup your workflow by 200% if not more. This solution is also not a bad idea for people who don't have CSS or coding skills but are still creative and want to get into web design.
The start of Divi UI Kits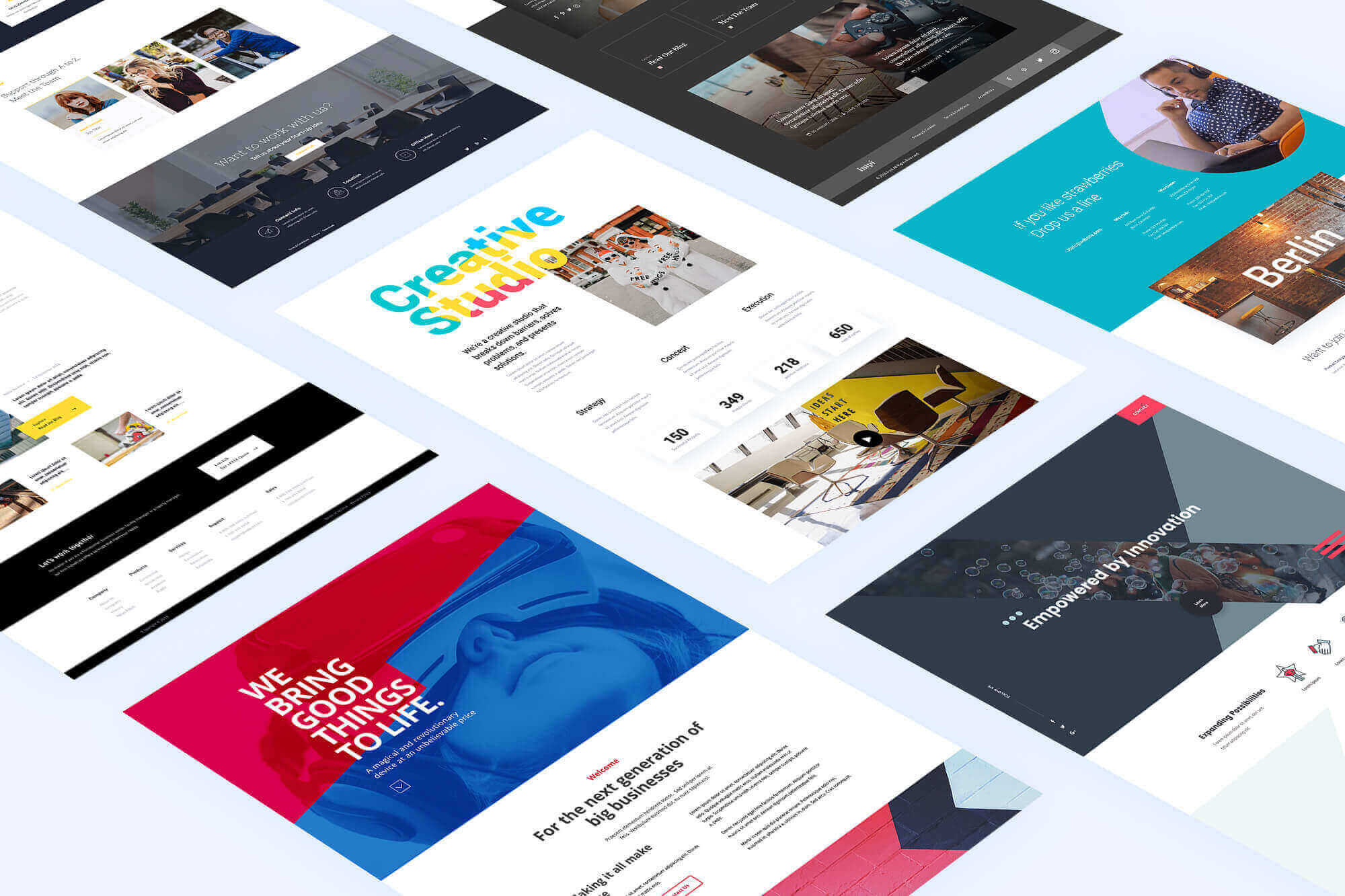 When we moved to Berlin. We set up Webdesign101.berlin to look after local clients. The site even has some German on it! We did realise quite quickly that giving support to our clients in German was not going to happen. Or at least not for a long while until our language skills were much, much better.
But the site wasn't wasted as we used it to try out our UI Bundles idea. Kyra designed some Divi Page Layouts, our coder Rustam built them for us and we put them up as Freebies on a makeshift store. We had no idea they would be so popular and in hindsight we should have built the Divi Den store right at the beginning. But then hindsight is always 20/20 vision isn't it!
We also have to give a shout out to Craig from Divi Theme Examples who gave us our first big push. Kyra found his site and decided to add one of our Divi client sites. He contacted us and asked if we had affiliates. Affiliates? We had no actual products at this time but Christiaan set it up!
Craig put up our 5 freebies on his site and we had 100 new members on that first day from his traffic. We were so excited we danced around the coffee table:)
The Unicorn Bundle our First Product – What a Drama
We uploaded our first product to the Webdesign 101 live site and while we were testing the checkout page we got an order and a PayPal confirmation email. Kyra asked our Studio Lead programmer Svitlana – hey did we just make a sale? She says no it's just me testing. But you're not in Spain – was the question?
It was an order!  Our very first one was a Divi Person Module pack. We could not believe it as we were still working on setting up WooCommerce.  The website, Webdesign 101, was only a few months old and had very little traffic so we decided just to work live. Lesson learnt. Now it's staging sites first. Always. We never made that mistake with client sites. Why would we do it with our own….
We were so unprepared for our first sale that we had even forgotten to upload the product (we now have a launch checklist) so our first customer had to phone us asking for the product. So, so embarrassing.
As With Most Start-ups – Some Glorious Fails
It took us 4 months to complete our first product in between client work. All you Divi product makers know what that's like. You just want to work on your product but the 'pesky' clients keep on wanting your attention.
We had to learn a lot about support. Thank goodness for Marko who heads up our Support now! Even our Freebies required support. But it's also a great way to find out what you are doing wrong! And we realised the Unicorn Bundle was too complex. In the first version we exported everything individually and made CSS and jquery files for each module.
What we discovered was our customers were not using child themes and were unsure where to put the code. Version two we introduced a blank child theme which held the code. The problem with version two was that people were still adding the CSS and ended up with duplicate CSS and were basically confused.
During a strategy meeting about how to fix this problem Kyra asked whether we couldn't just hide the code and put it all into an easy to use plugin. Version three of the Unicorn was born. The plugin ended up being a great idea and our support dropped by about 80%.
The added benefit of the plugin idea was that it made upgrades so much easier.  We've been so hugely thankful to all of our early Unicorn customers who travelled through this discovery with us! Mostly without complaining too much.
Our second product took us another four months to make. We were still working on getting the product right and doing client work. The Mermaid Bundle launched with a bang and we made the hugely scary step to stop taking on client work completely. It was a gamble which luckily paid off.  We will be forever grateful to our fabulous customers.
The Move to Divi Den
Finally we realised that our products were becoming popular and that possibly the Divi shop on Webdesign101.berlin wasn't that ideal. We set up the shop on divi-den.com and our products now had a home.
From the beginning the UI Bundles were designed to provide a more holistic solution to web designers that not only covered page layouts and modules for Divi Theme users. The design assets that are included in most bundles are really popular.  It's the business card layouts, logo design suggestions, creative briefs and more that our Divi Den people love too.
After Unicorn we introduced a range of UI Bundles with different design approaches and a range of components. Some of our bundles are more conservative and some like the Mermaid are a little more courageous in design and style. There should be something suitable for any web design project whether for a website for a financial advisor who needs to look imminently trustworthy or for an artist studio client who wants to be represented as a free spirit.
We always try to add some sparkle as well with on hover animation or scroll down reveals as well as other micro interactions. As much as websites shouldn't be too complex because it's all about ease of use, there still needs to be a little bit of a buzz. The tiny interactions and fun animations add some interest to the information presented.
We try and make these micro interactions a little more complex and not that easy for our customers to make themselves. That way web designers can add value to a page without having to sweat over it themselves.
We launched Jackson and Mozart in 2018 to serve the market for page layout packs. What if you had a page layout pack that had a premade Divi page layout for every single page you might need in a website. We even added second level pages such as a Divi Blog Search page or Blog Category page. And as a further different option the Venus UI Kit came with just modules. And what modules they are. Venus has some truly awesome animations.
Introducing Divi Den Pro and WP Den
Our plan was always to make a membership site but because we make all our own products it has taken us a year to have enough in the library to make it worthwhile to subscribe. We decided to have the subscription service on a new site.
Perhaps this was the wrong move as it could confuse folk. But our thinking was that eventually we should offer premade Gutenberg Blocks or perhaps even Elementor Templates. Wouldn't it be good then to have a one subscription site for WordPress premade UI components whether page layouts, modules, elements, templates or blocks to use with whatever page builder a web professional might want to use!
Taking advice from the feedback we receive from our customers we made Divi Den Pro one plugin only. Rather than having to instal so many as each Bundle has a plugin, this single plugin is super easy and convenient. And updates are so easy to push through.
There's a white label option for web design professionals who want to add their own branding to their work. It's a super quick download. You can search all of the products not just per bundle and it's all cloud based. It's really easy to skim through and find the most suitable component to use.
We also received a few murmurs about the fact that our bundles take so long to come out. By having a membership offering we can publish new products without waiting for full bundles. Our members get access to new page layouts and modules every month. Makes it both really useful and exciting to be a member.
One further amazing use for web professional is the ease with which one can grab either a page layout or range of modules and quickly build a prototype for a new or potential client when pitching for new work.
It's a matter of quickly changing colours, dropping in the prospective client's logo, gathering some topic relevant copy and in an hour or so you have a bite sized project for the potential client to have an idea of what can be done for him. A possible business solution rather than a vague anything goes portfolio of past work you've done will appeal more when you pitch for new work.
As with Divi Den products there's friendly and knowledgeable support on WP Den. Also added is an instant chat service during European office hours which makes it even quicker to get help if stuck. For after hours there is an extensive library of articles, 'how to' videos and an ever increasing number of very quick tutorials that will let professional web design creators upskill themselves speedily and without any fuss.
What's next for Yeah Can?
That's not an easy question to answer. After all the web design field is somewhat fluid and new fabulous toys arrive on the market daily. We are working on submitting our Divi Den on Demand free plugin for use with our many freebies to WordPress.
At the moment you can get the beta version of Divi Den on Demand on Divi Den.com. And we are truly thankful to the over 2200 Divi folk who have downloaded the plugin, are enjoying our freebies and of course are helping us test for bugs. So thankful!!
One thing we are certain of. We will continue to offer the most fabulous, awesome products to the Divi community whether you only want to buy and own outright or whether you enjoy a member's subscription that gives you access to everything. And not forgetting a range of freebies that will be available regularly.