Cut Your Website Development in half with Divi Den Pro and Divi Theme
– Use premade website packs and page layouts to build websites faster.
– One plugin lets you search and preview layouts from the cloud.
– Browse 2135 library items to find the perfect design.
– Build unlimited websites for yourself or clients.
– New designs and assets are added every month.

Design And Build Without Limits
Manage all from one plugin
Load layouts with one click from the cloud
White label branding
100% Responsive – Mobile and Tablet friendly
Amazing support
Install on unlimited websites
Regular updates
Cancel anytime
One Subscription. Unlimited Downloads
New Divi Layouts & Modules every month
New Design Elements every month
Unlimited use of 172 Divi Layouts
Unlimited use of 477 Divi Modules
630 PSDs
675 Icons, social media cards
Multi-purpose designs
CSS3 Animations
For Your Business
Quote templates
Invoice templates
Creatives brief templates
Development checklist
Business Proposal templates
Business card designs
Powerpoint presentation templates
Branding Mock Ups



View the full library here
White Label Mode for Divi Den Pro
Latest Collections Available To Pro Members
All Other Products Available To Divi Den Pro Members
DESIGN BETTER - BUILD FASTER
Grow your business
The Divi Den Pro subscription makes it incredibly easy to work as a freelancer or as owner of a small to medium sized web design business. Whether you have just started using the Divi Theme and Page Builder or are an expert with years of experience the Divi Den Pro library is perfect for you.
Easy access to fabulous products made by an experienced designer and coding team. These products have been made with great care. 100% responsive. Lots of training videos, tutorials and articles as well as awesome support to help you get the most use out of them.
Starter
Free Divi Den on Demand Plug-In
Unlimited Access to

31 Divi Page Layout

12 Divi Modules

20 Layouts PSDs only

Tutorials and Videos

Support on Freebies
Divi Den Pro
Divi Den Pro Plug-In
Unlimited Access to
One Plugin for Everything
(+ -) 20 New Units Every Month
Close to 200 Divi Page Layouts
Close to 450 Divi Modules
275 Custom Icons Over
600 PSDs
Design Elements
Business Tools
Extensive Library of Videos
White Label Branding
Regular Updates
Amazing Support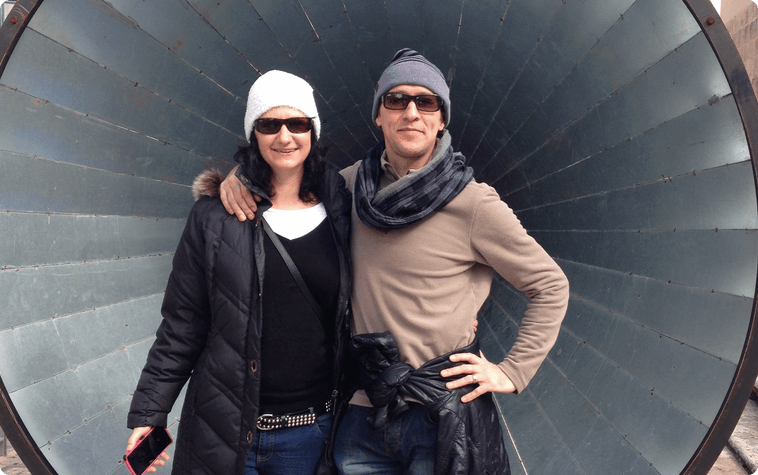 About the Makers
In 2011 we got together to start Yeah Can, the original design studio behind Divi Den Pro. Kyra the creative lead has over 20 years design experience both at agency level as well as working as a freelancer. She knows what web designers really need. Christiaan heads up technical and is obsessed with ensuring our products are as perfect and as user friendly as possible.
Our coding team joined us one by one from 2013 onwards while we were still doing client work. Marko at support, and growing into the role of videographer, has been with us for almost a year.
You can find a lot of so-called premium products on the web for Divi but Divi Den excels them all. My only complaint is that new layouts/bundles don't come up often enough
Great customer service as well, very helpful and responsive team. What I like most is that the templates speed up my work and with some CSS and DIVI magic I can have 2 or more completely different websites based on the same template. Looking forward to your next design!
Best layout packs out there! So easy to use, so versatile! Amazing support!
They create awesome layouts for non-CSS people and their support team is top-notch. VERY responsive and they have saved me on tough items I could not figure out. If you want to work with a winning team on anything DIVI, check Divi Den out. You will not be disappointed. Thank you so much, Divi Den for all your help and to Marko too!
Amazing creativity and design. Clear and easily identifiable layouts and premium design elements with brilliant ideas. (I have all you made, so please keep produce them)
- Keith
Love all the work you guys are putting into this – awesome work and great value! Thanks!
- Cr8tivmedia
LOVE LOVE LOVE your solutions and generosity with the fantastic layout packs. Your team is solid with it's solutions and creativity. Thanks! I have the unicorn bundle and 3D portfolio.